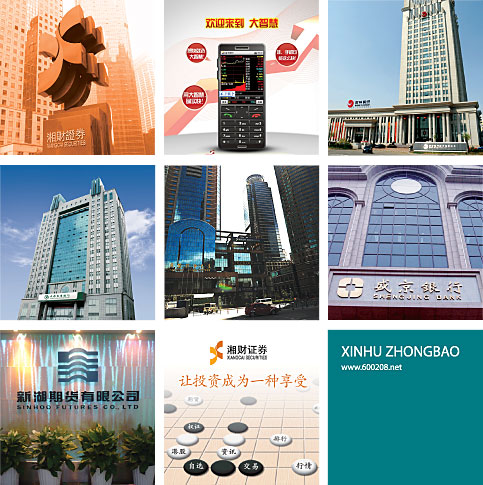 Finance
Financial industry is one of the strategic investment focuses of the company. The company has achieved great success in exploration and practice on financial industry investment. Xinhu Group Co., Ltd. is the majority shareholder of Xinhu Futures Co., Ltd., and joined the Xiangcai securities. In the meantime, it is the strategic investor for the Shengjing Bank, Chengdu Rural Commercial Bank, Wenzhou City Commercial Bank, Jilin Bank, and Grand Wisdom Network Technology Co., Ltd. Xinhu Zhongbao has its unique forward-looking and professional vision that is needed to build a financial platform for the twenty-first century.
Mineral Resource
Resource industry is one of the key investment areas of the company. Xinhu has taken steps in the field of mineral resource-based development. It has invested in Daliuhang Gold Mine in Penglai of Shandong, Chenglong mining industry in Fengning and Qinghai Alkai Industry. The company will continue to pay close attention to investment opportunities of the resource industry and will gradually achieve the most optimal allocation of the company's assets.
Grand wisdom network technology co.,Ltd.
Shanghai Grand Wisdom Network Technology Co., Ltd. was established in 2000. It is a professional and well-known high-tech expertise in the financial sector dealing with the development, production, sales, and service of high-tech company. It is a state-certified high-tech enterprise consisting of advanced technology and software company.
Great Wisdom production series covered financial database, real-time market information transmission, reveal real-time market information and investment analysis software. Among the securities trader, fund companies, listed companies and individual investors that financial education system, information release, WEB financial services platform, and other fields, the company has a high penetration rate and reputation. The company serves more than one million investors on terminal query, analysis and consulting through the great wisdom everyday.
KingLand Pipeline
Zhejiang King Land Pipeline technology Ltd (King Land Pipeline) was established in 2002. It is the major pipeline company for King Land Group Ltd., (which has 28 years of pipeline industry experience). King Land Pipeline currently has assets of RMB 1.2 billion and more than 1,600 employees. It is mainly engaged with high-grade oil and natural gas transmission, screw steel pipe, hot-dip galvanized steel pipes, and Steel-plastic compound pipes's research ,development, sales and manufacturing. It is a well-equipped and international-standards-meet production company. In China, it is one of the main channel suppliers for National Petroleum, Sinopec, CNOOC and other energy giants. King Land pipeline is one of the few domestic all-around pipelines manufacturing companies. It also ranks top three in the pipe industry. Kingland is the first pipe trade company that won the "China's famous trademark" recognition.